Surprisingly, this recipe is not from my "cooking"
Grandma
, but my "book" Grandma. :-)
Although just a basic banana bread recipe, it is moist and sweet and delicious.
One of my local grocery stores sells bags of getting-too-ripe-to-look-pretty-on-the-display-cut-the-price bananas. When I see these, I stock up!
I take the getting-close-to-too-ripe bananas home, peel, package in 1-recipe portions, and freeze for future banana breads, muffins, or baked goods.
Grandma's Banana Bread
1 3/4 cup flour
1 1 /4 teaspoon baking powder
1/2 teaspoon baking soda
3/4 teaspoon salt
1/3 cup oil
2/3 cup sugar
2 eggs
1 teaspoon vanilla
1 cup mashed ripe bananas (2-3)
Cream oil and sugar and add eggs until light and fluffy. Add mashed bananas and vanilla.
In a separate bowl, combine all dry ingredients. Add dry ingredients to banana mixture in three additions. Do not beat.
Pour into greased loaf pan. Bake at 350 degrees for about an hour. Check for doneness at 45 minutes.
Recommend: YES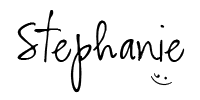 ___________________________________
Tags:
recipes
Banana Bread
bananas
banana recipes
quick breads
quick bread recipes
banana bread recipe